Halaxy Directory: Add your logo to your practice profile and more!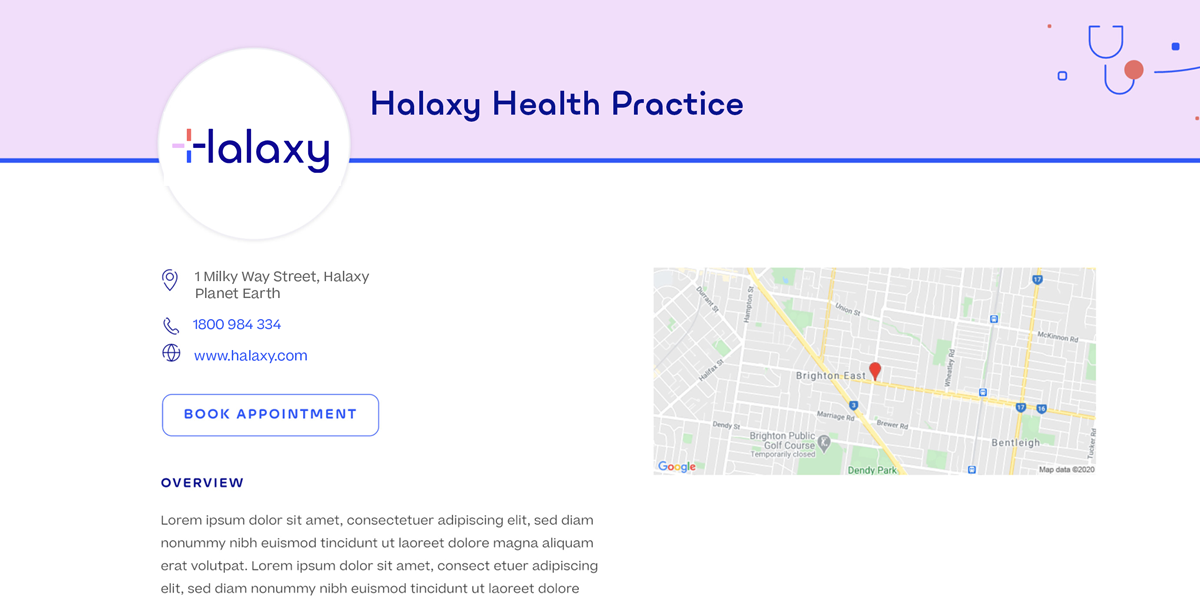 Your directory and practice profiles in Halaxy are the best channels for you to build a strong online presence and increase colleagues' and patients' awareness of your practice with zero work. And it gets better: we have improved the design of these pages, so it's even easier for patients to find your practice and book with you online!
Practice Profile
Your practice profile is one of the first interactions patients and referrers have with your practice online - so it's important you make a good impression. Here's what's new:
Add your own logo: that's right, you can customise your practice profile even further by adding your own logo to the page - increasing awareness and credibility.

Practitioners section: we've improved how the information about your team is displayed, highlighting their profiles so patients can find them without having to scroll too far down the page.

Improved design and user experience: we've improved how the information about your practice is displayed, so all the main details are available on the top part of the page. We've also made the "book appointment" button more visible - making it easier for patients to book with you.

Practitioner Profile
Your directory profile helps patients and referrers find you online, and learn more about the services your practice offers in a more efficient, intuitive, and professional way. Here's what's new:
Improved Design: we've removed unnecessary blank spaces and improved how the information is displayed, so patients can easily find everything they need when booking with you.

Keep reading to learn how you can use Halaxy's free directory and online bookings to better promote and grow your practice.
---
Improve your online presence with Halaxy's directory and online bookings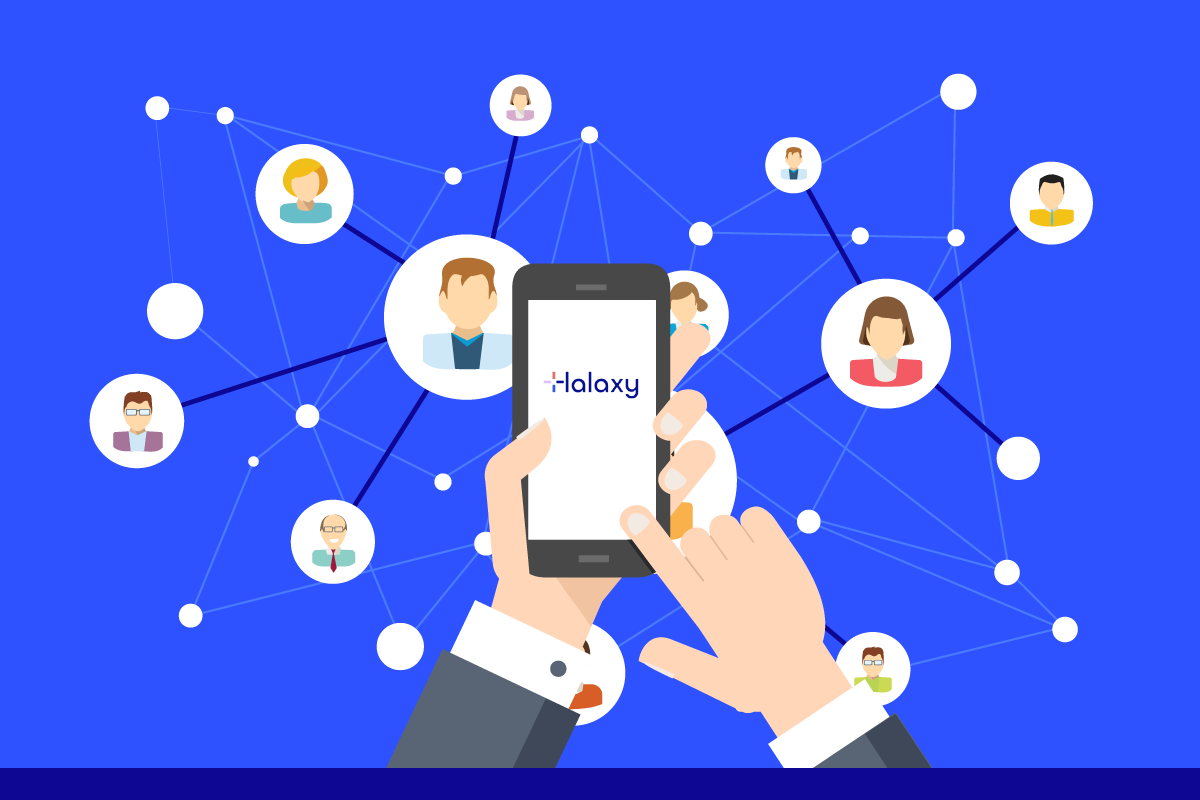 1. Enable your directory profile and help patients book with you
You can grow your practice without the legwork using Halaxy's online directory to help patients and referrers find you when they need it.

Having a profile in Halaxy and the option to book online help patients book with your practice at a time that suits them.

Learn how to enable your directory and practice profiles
2. Add your practice's logo to the directory profile
If you choose to list your practice in Halaxy's online directory, you can add a description and a logo to your location by following the steps below:
Click Personal > Locations.

For the location you wish to edit, find the Online Directory section.

To add a logo, click the Logo icon. You will be asked to upload a file from your computer, then click Save. It is recommended that your logo dimensions are square (e.g. 300x300px, 500x500px).
Learn more on how to edit your practice profile
3. Start accepting online bookings via Halaxy
Online bookings allow your patients to book appointments directly into your calendar using Halaxy's free online booking service, available through the Halaxy directory or embedded directly into your own website (check item 4 to learn more).

With the option of time-specific or request-based online bookings, as well as the ability to approve or reject an appointment before it is confirmed, Halaxy gives you complete flexibility to set different preferences for each practitioner at each of your practice locations.
Best of all: after confirmed, online bookings appear automatically in your calendar, without you needing to do anything.
4. Accept bookings directly from your website
You can accept appointment bookings directly from your practice's website 24/7 using Halaxy's embedded calendar. All appointments made online via your website are also fully integrated into your Halaxy calendar.

Learn how to integrate online bookings with your website
5. Improve your online presence with a superstar profile
Building a strong and reliable online presence takes time and effort. Having a directory profile that promotes your experience, qualifications, and practice details is the first step to make sure patients find you when they need.
Your directory profile is like your business card - in many cases, it's the first impression patients have of you. And the same applies to your practice profile - it's a patient's first interaction with your business.

Learn how to create a superstar profile
6. Add a Contact button to your profile
If you're not ready to receive online bookings yet, you also have the option to enable the Contact button. The Contact button is great because it allows patients to instantly contact you via the website - and the email is sent through Halaxy to you automatically without the patient seeing your email address.

You can then manage the booking according to your schedule.

Learn how to enable the Contact button
7. Set up online bookings for face-to-face and online consults
Seeing patients in person or via telehealth, and in different locations and time zones can be tricky to manage when receiving online bookings - with Halaxy you don't need to worry:
Set up a custom email confirmation for online bookings
You can create a customised booking confirmation email for your practice, informing patients about your consultation options, preventive measures for face-to-face appointments, opening hours, etc.

Learn how to customise the online booking email confirmation

Time zones for online bookings
Patients have the option to set their preferred time zone when booking an appointment online with you - your calendar remains the same, but patients can see the available timeslots based on their time zone!

You're able to set a time zone for your practice group, different practice locations, and for individual patients - which is really helpful when scheduling appointments and reminders for patients you see remotely.

Learn more about time zones for online bookings
8. Send intake forms with online bookings
You can set you patient intake forms to be automatically sent when a patient completes an online booking. All the information completed by the patient automatically updates their profile in Halaxy.

Learn how to send intake forms with online bookings
9. Create appointments and patient profiles automatically
When patients book with you online, their information is automatically uploaded into your Halaxy account.

You don't need to do anything else, simply confirm the appointment on your Halaxy Calendar. Patient profiles, reminders, invoices, and even payments are then automatically completed for you.
10. Link your online bookings page to your Facebook page
If you have a Facebook Business page, you can use it to accept bookings and promote your Halaxy Directory Profile.

Add a link to your Halaxy profile to your Facebook Page
Simply add a "Book now" button to your page and link it to your Halaxy Directory Profile (with online bookings enabled) or link it to your website.

See the step by step in the blog