Building a strong and reliable online presence takes time and effort. Having a directory profile that promotes your experience, qualifications, and practice details is the first step to make sure patients find you when they need.
Your directory profile is like your business card - in many cases, it's the first impression patients have of you. And the same applies to your practice profile - it's a patient's first interaction with your business.
Halaxy superstar profile
It's easy to optimise your Halaxy profile and turn it into a 5-star profile.

A 5-star profile means that you've completed all the details needed to help patients find you online and book with you.

We've selected practitioner Livia Gluchowska's Halaxy profile to show how you can easily complete yours and improve it to its full potential.

By following the steps below you'll be able to have at least a 4 out of 5 stars profile in minutes:
⭐ 1. Create your profile and add a general description of yourself and your practice
This first introduction gives patients a good sense of who they are booking with and the services and treatments you offer. These details are extremely helpful for patients to find the right practitioner for their case.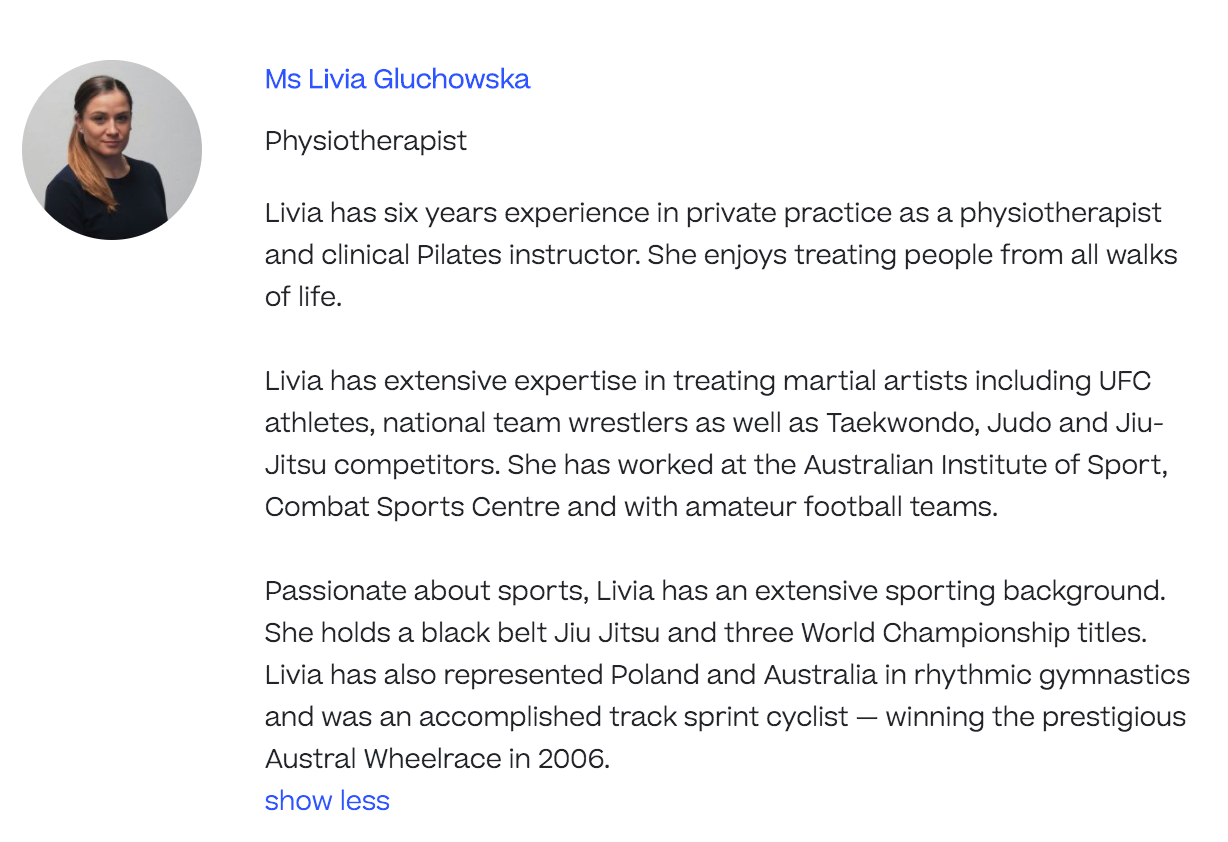 ⭐⭐ 2. Add your photo, locations, and availability

Photo
Adding a photo of yourself not only personalises your Halaxy profile but gives new patients more insight into your practice, increasing the number of people who contact you as well as the number of completed online bookings from your profile.

Locations
Patients usually look for practitioners close to their home or work, and having your locations added in your profile can help you get more bookings in your area and surroundings.

Availability
It is recommended that you have your working hours displayed on your profile, so patients can quickly find out if your availability matches their schedule at work or school.
⭐⭐⭐ 3. Add details about your education, as well as accreditations and certifications if applicable
Including details about your education adds credibility to your profile. Patients want to make sure they can trust you, and these formal certifications help to build trust from the get-go.
⭐ ⭐ ⭐ ⭐  4. Add your specialisations and patient focus
In practitioner Livia's profile, you can see very clearly how important it is to add your area of focus and patient focus. Looking at this example and the highlighted details, you can see that if your potential patient is a woman looking for treatment for a sports injury, she'd know right away that Ms. Livia Gluchowska can help her.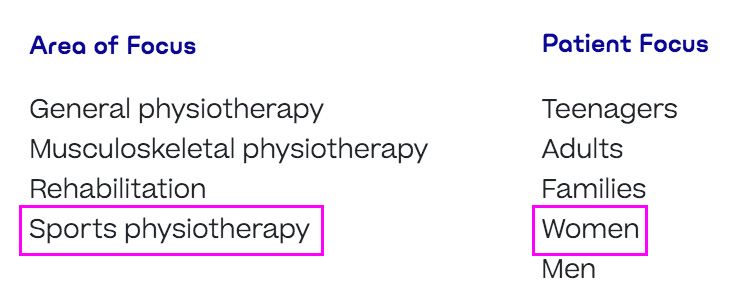 There are many reasons why patients may want to book an appointment with you. By not listing your specialisations and patient focus, you might be unintentionally excluding many potential patients because they couldn't find in your profile that you can treat their specific problem.
Adding details about your expertise can also help your profile rank higher in search engines, which means more people can find you online. So make sure you list all the treatments you offer as well as who'd benefit from them.
⭐⭐⭐⭐⭐ 5. Add languages spoken and services
In addition to a well-written and complete profile, additional information such as language spoken and the services you offer, such as home visits, may be a key differential for patients to book with you.

---
Your profile is up to you
You have the flexibility to choose the level of information shown on your profile - so feel free to add what you believe is relevant to your patients.
Grow your practice with Halaxy
Halaxy's directory and online bookings service allow you to grow and promote your practice, so having a profile on Halaxy is the first step to engage with new patients online.