Coronavirus: Halaxy features to help your practice during the outbreak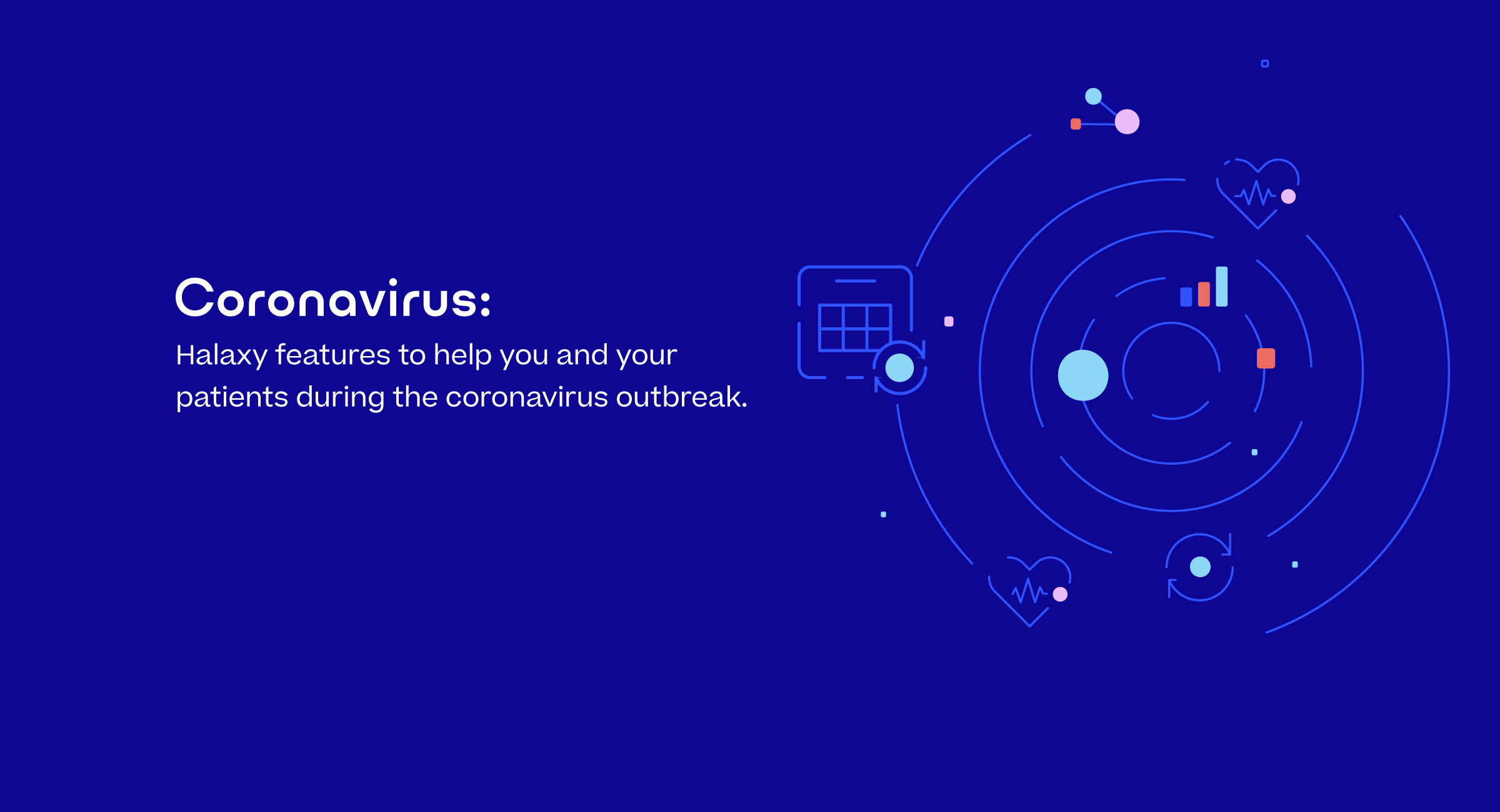 With the increasing cases of coronavirus/COVID-19 in many parts of the world, being prepared in your practice and helping patients to be prepared are paramount in ensuring access to treatment and in reducing exposure to the virus for patients and staff.

Your Halaxy has the right tools and features to help you and your patients during this period - so today we're sharing everything you can do in Halaxy to better manage patient flow in times of coronavirus.
Here's how you can use your Halaxy in times of coronavirus:

1. Inform your patients about your practice's preventive measures
You can send mass communications to your patients about your practice's preventive measures using Halaxy's Campaigns feature, and even add a specific message to your SMS reminders about coronavirus.

Learn how to customise your SMS reminders


2. Booking Notes: Instruct your patients when they book online
The booking notes you set in Halaxy appear to the patient when they are making an online booking. You can add any message you find relevant, including instructions on what to do if patients are experiencing coronavirus symptoms.

Check the coronavirus update letter written by Brendan Murphy, Chief Medical Officer of the Australian Federal Government, to learn more about how you can reduce the exposure to the virus by instructing patients to call before attending the appointment if experiencing coronavirus symptoms.

Learn how to set up Booking Notes


3. Clinical tools: New Coronavirus Questionnaire
Halaxy offers a broad range of tests and assessments you can import as clinical tools/templates. To support you and your patients during the coronavirus outbreak, we've also prepared a preset questionnaire specifically to help you with the diagnose of coronavirus - simply search for "coronavirus" and import the template in your Halaxy.

Learn how to import preset clinical tools/templates


4. Electronic communications to reduce physical interaction in practice
You can reduce physical interaction in your practice by using Halaxy's billing and clinical features:
5. Online Video Consultations
Halaxy integrates with the Coviu online video consultations platform so that you can use telehealth to see and treat patients online through Halaxy.
Because Coviu is integrated into your Halaxy, you can create invoices, process patient appointment fee payments automatically at the time of the appointment, and send SMS and email reminders for online consultations in the same way as for traditional appointments.
Learn how to connect your Coviu account with Halaxy


6. Medicare item numbers for telehealth for vulnerable communities, and for pathology for coronavirus tests
The Australian Federal Government announced a $2.4 Billion health plan to fight COVID-19. The Plan includes new item numbers that Medicare released on 13 March that are now available for you to import into your Halaxy.

All that eligible practitioners need to do is to import the fees that are relevant to their profession and update the fees.

Learn how to manage fees in Halaxy


7. Keep your patients informed about the coronavirus
There's new information about coronavirus being released almost every day, so Halaxy's Campaigns feature allows you to send mass communications as a one-off campaign such as a "Coronavirus Update", for example. The communications can be sent via SMS and/or email.

Learn more about Campaigns for coronavirus
---
Get started today
Join over 40,000 practitioners who trust Halaxy to better manage their practices.