Multi-mode practice: Here's what you need to know
You may not know, but it's pretty simple: if you have a mix of face-to-face, phone, and telemedicine appointments, you're operating a multi-mode practice.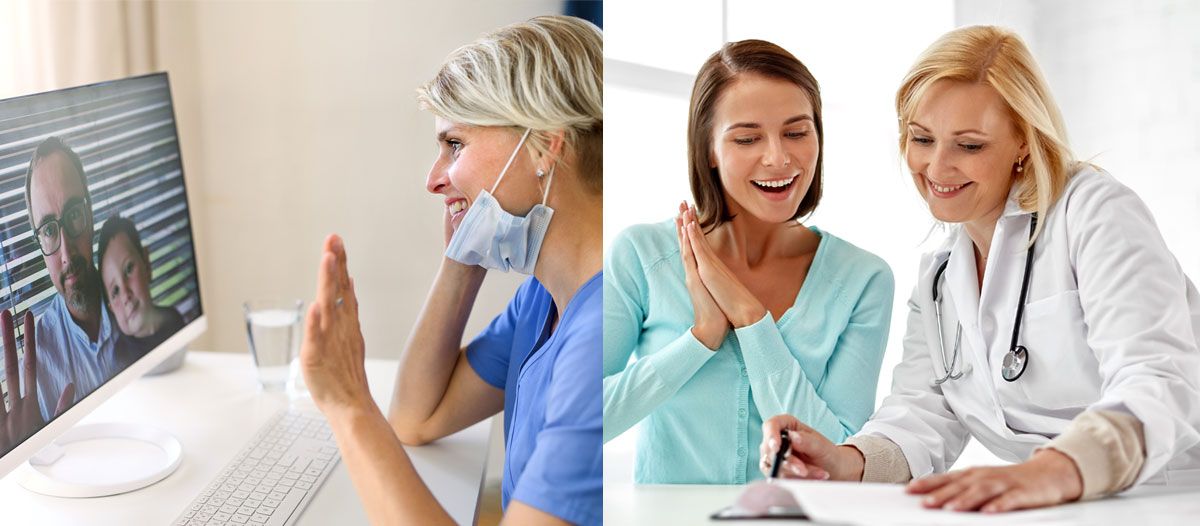 Multi-mode is the new "normal" for private practices
When the pandemic started months ago, health practitioners were the first to adapt and innovate to keep treating patients - without even realising it, you created an efficient and inclusive way to treat patients: the multi-mode practice.
Even when things go back to "normal", practitioners and patients have discovered a new normal for treatment, with fewer limitations and endless possibilities.
Multi-mode is good for business
Multi-mode practices are not only keeping treatment business as usual during difficult times, but they've proven to be a great business strategy.
Many practitioners are now having the opportunity to grow their practices like never before, without increasing costs with multiple locations, staff or a bigger waiting room.
Multi-mode makes healthcare better
Not to mention that multi-mode practices mean being able to make healthcare better for more people everywhere.
Halaxy has all the features you need to run a multi-mode practice
Now that you know the benefits of running a multi-mode practice, keep reading to learn more about the Halaxy features to help you seamlessly see and treat patients face-to-face and online.
Sign up to Halaxy for free - there's no 30-day trial or credit card required.
---
Here are the Halaxy features to support your multi-mode practice:
1. Telemedicine
Create online video appointments the same way you create face-to-face appointments and Halaxy automatically creates the invoice and sends reminders for the online consultations.
Coviu Online Video Consultations
Halaxy integrates directly with the Coviu platform so you can securely use telemedicine to see and treat patients online directly within the Halaxy interface.

Zoom and other video providers
You also have the flexibility to use Halaxy to manage telemedicine appointments using other external video providers, such as Zoom.

Learn more about Halaxy's features for telemedicine
2. Campaigns (Recalls, Marketing, and Comms)
Halaxy allows you to send mass SMS and email communications to your patients or to your referral network by running a report and using it as a mailing list called a campaign.

Here are some campaigns you may want to send now:
To inform patients about phone and online video consultations;
To inform patients about your practice's preventive measures; and
To inform patients that your practice is open.
Learn more about smart campaigns
3. Online Bookings
Halaxy is the only practice management software solution to offer online bookings for sole, group, and video appointments, so you can have your practice management software, directory, all online bookings, and payments in the one place! Best of all: all bookings appear within your Halaxy, automatically.

Custom online booking confirmation: create a customised booking confirmation email informing patients about preventive measures, telemedicine options, opening hours, etc.

Learn more about directory and online bookings
4. Online intake forms
Halaxy intake forms are online and automated, so you don't need to print any physical forms or enter data manually - once a patient submits the form online, their information is automatically and securely updated in Halaxy.

This means that the patient profile is completely updated, including the clinical dashboard, which tracks key data from clinical templates.

With intake forms you can request:
- Personal details
- Payment details
- Funding and referral details
- Social history information
- Consent to treatment and/or terms and conditionsYou can also attach clinical questionnaires to be completed within your intake form.
5. Clinical tools and templates
When you have created a clinical tool in Halaxy, you can assign the tool to a patient to fill out online via their patient portal before and in between appointments.

By creating a free Halaxy account, your patients have the tools they need to manage their health online, from updating their patient profile, to keeping track of appointments, invoices, and completing clinical tools and questionnaires remotely - saving you time with data-entry and patient management.

Learn more about patient records in Halaxy
---
Want to learn more about Halaxy? Create a free account today.
As you can see, Halaxy has all the features you need to seamlessly treat and communicate with your patients face-to-face and remotely during these challenging times.
You can use Halaxy for free - there's no 30-day trial or credit card required.