We understand your time is precious. That's why Halaxy is quick to set up, easy to use and covers everything you need.
You can run your entire practice in just a few clicks, right from appointments and patient records, through to clinical billing for any funding body.
Simply make a booking
It's that easy. From your calendar your Halaxy automatically generates patient information, fees, claiming details, invoices, add referrals and clinical notes whenever you make a booking.

You manage your entire practice just by entering appointments because Halaxy takes care of the rest for you.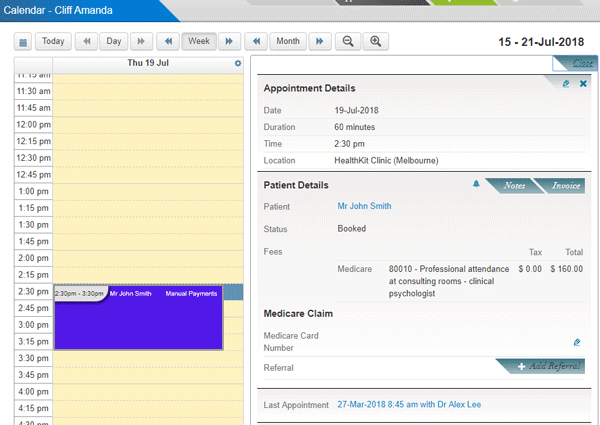 Features that genuinely improve your practice
When you automate your administration with Halaxy, you can focus on treating more patients and clients. Halaxy provides many handy features to simplify your practice's day to day:
Invoicing
Halaxy creates (and can even process) invoices when you make an appointment.
Extensive financial reports
Halaxy tracks financial and patient information so you can diagnose your practice, fast.
Clinical templates
Do your best work with templates customised to your profession.
Online bookings and Patient Portals for your patients
Your patients can book with you directly online, and track their health through the Halaxy Patient Portal.
Online directory
Our online directory even helps you grow your practice when you're available to see new patients.
---
Get started today with free core software
The features you've read about above are free. Turbo-charge your practice at any time with the option to pay for SMS reminders, electronic patient fee payments processing, and other helpful add-ons.

Join over 40,000 practitioners who trust Halaxy to better manage their entire practices.