New features to help you manage child patients and dependants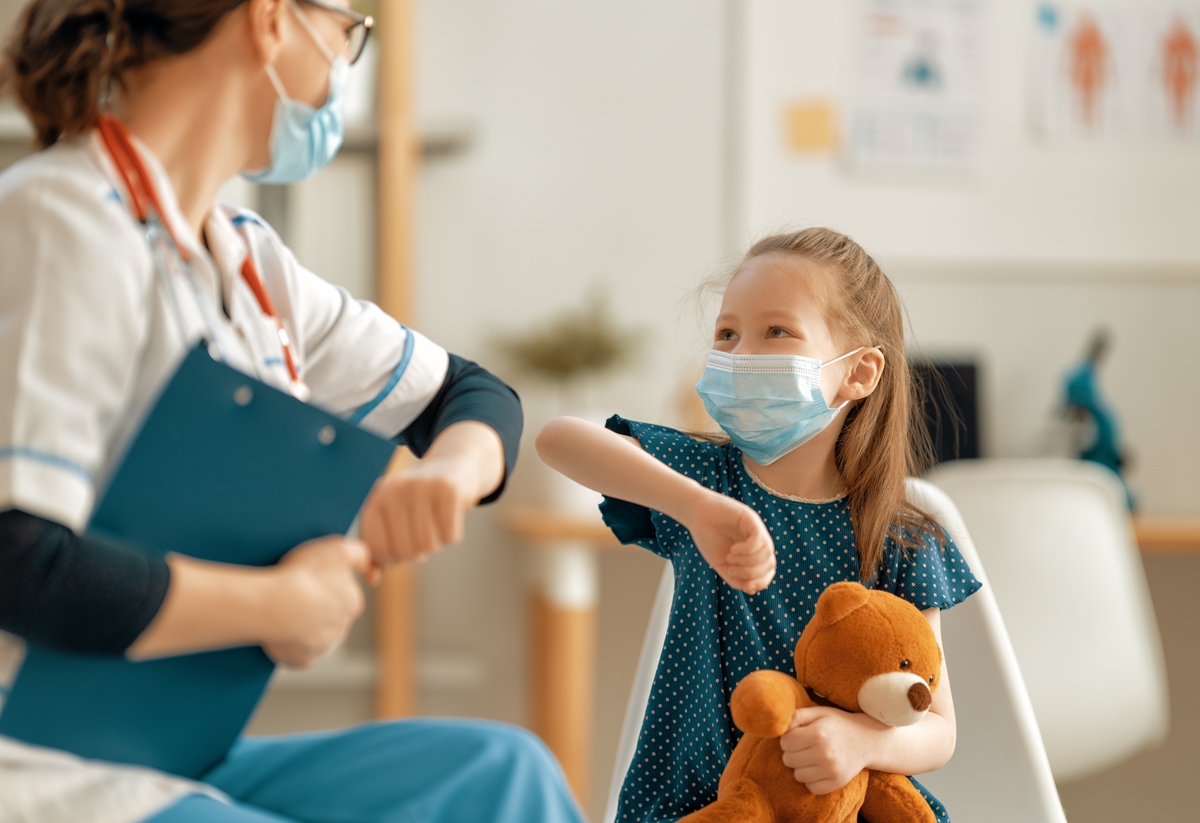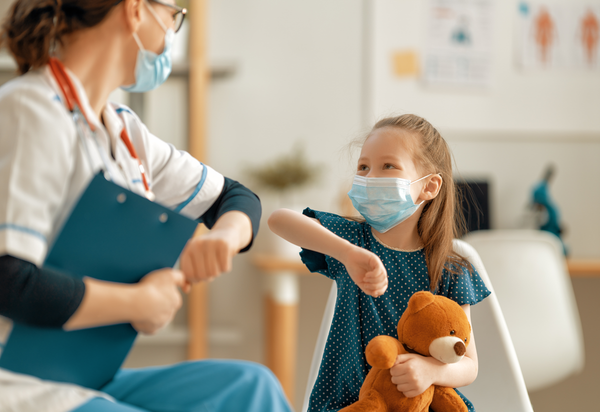 Your practice and your patients are unique. That's why Halaxy offers all the features you need and we're constantly thinking about all the small things that have a big impact on you day to day. Your Halaxy works the way you work.

So if you work treating child patients and other dependants, it's now even easier to manage and communicate with these patients and their primary carers and contacts in Halaxy.
Here are the new features we've added to help you manage child patients and other dependants:
You also already have the ability to manage different sets of claiming information for each invoice (for example, where two parents alternate Medicare claiming).

Keep reading to learn more about these features below!

Kind regards,
The Halaxy Team
---
Managing Child Patients And Dependants
1. Creating parents/guardians as contacts, setting the primary contact and sending appointment reminders to the contact
From a patient profile, you can click Add A Contact in the Contact Details section to add contacts. You can also edit an existing contact by clicking the Edit (pencil) icon next to their name on the dependant patient's profile.
One contact can be assigned as the primary contact by ticking the relevant checkbox when adding or editing a contact.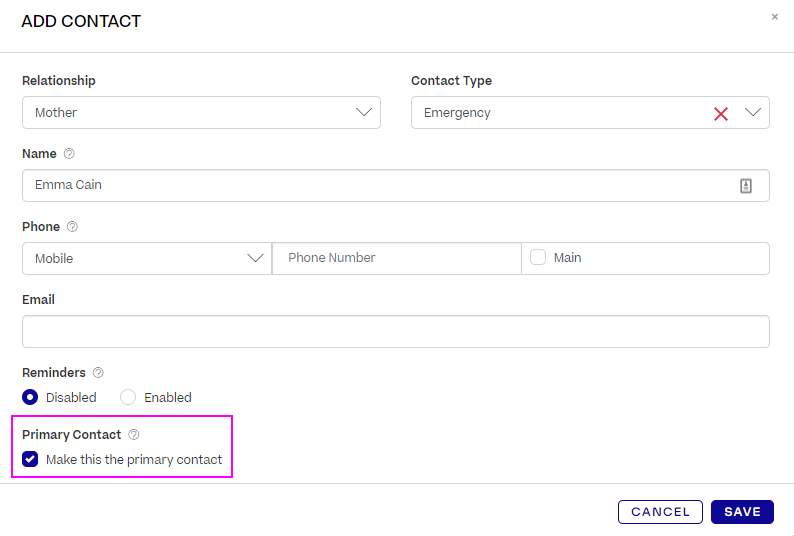 2. Displaying the primary contact on appointments in the calendar
You can edit your calendar preferences to show a patient's primary contact in brackets next to their name on the calendar.
To configure your calendar preferences to show the primary contact:
From the calendar, click the Cogwheel icon in the top-right.
The Calendar Preferences pop-up appears. In the "Patient names" drop-down menu, select "Full details - with primary contact".
Click Save.
RESULT: Whenever a patient's name appears in the calendar, if they have a primary contact set, the primary contact's name will also appear in brackets.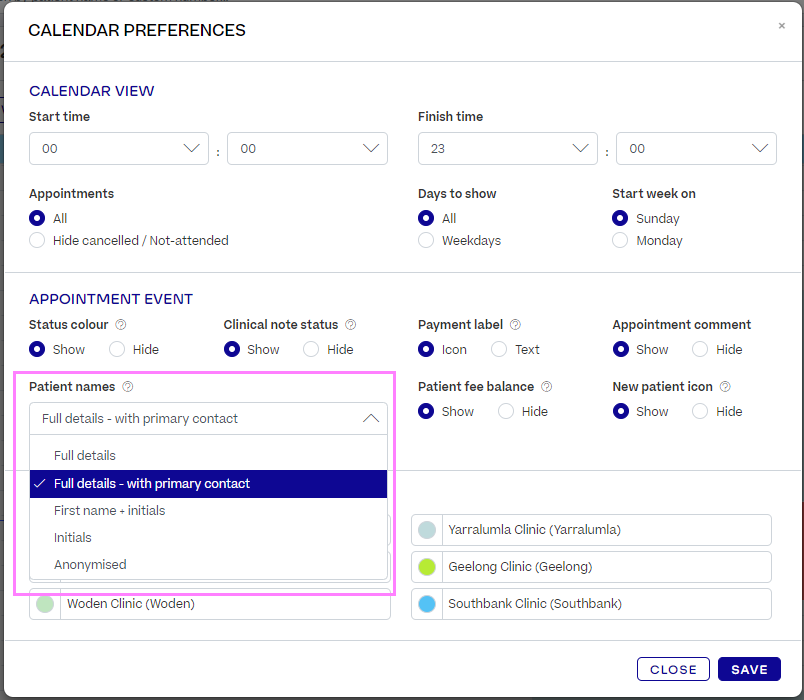 3. Including Contacts When Emailing Patients (CC and BCC)
Any of a patient's contacts can be copied into any email you send to the patient. Simply use the "CC patient contact" (or "CC client contact" depending on your patient/client terminology) and/or "BCC patient contact" fields when sending an email and select the contacts you wish to include: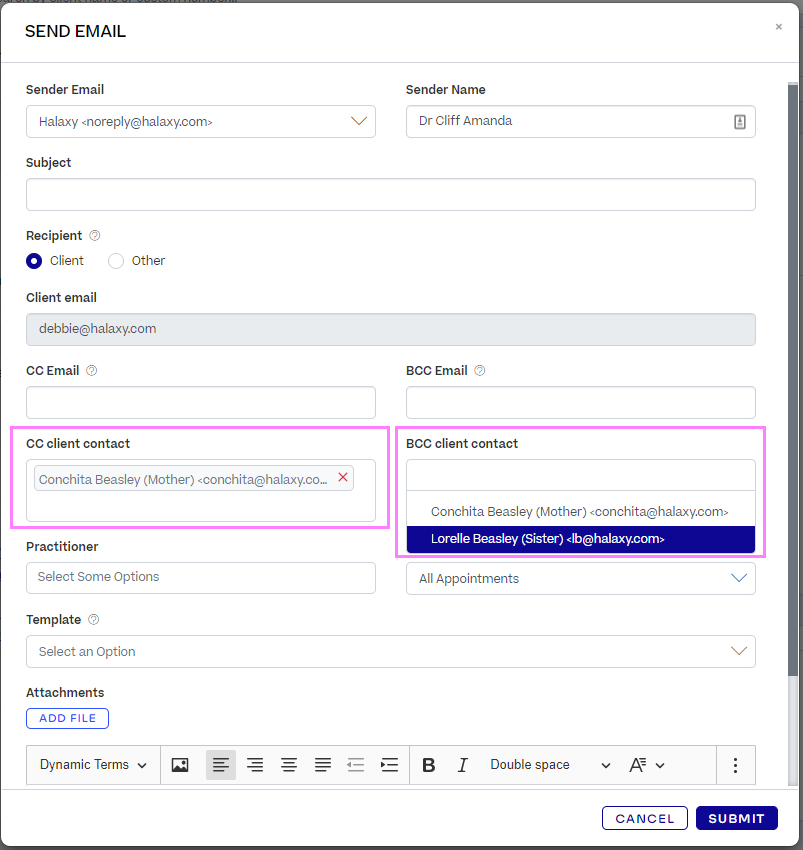 4. Billing a contact on an invoice
You can assign invoices to be automatically billed to the primary contact instead of the patient by default. This allows you to address the invoice to a parent or guardian instead of a patient directly. Please see the linked article for details on how to set up the default payer and invoice automation.
You can also manually select to bill a contact on any given invoice. To do so:
From an invoice, click the cogwheel icon at the top-right hand side of the page.
In the Payer field, ensure the payer is set to Patient.
In the Contact/Family Member field, select the contact you wish to bill.
Click Submit.
RESULT: The invoice is now billed to the contact instead of the patient.
5. Setting up multiple sets of claiming information (e.g. for parents who alternate claiming)
Please see Adding a Second Medicare Claimant (e.g. alternating parent claimants) for more information about how to set up multiple claims. This allows you to choose which claim to use on any given invoice, effectively allowing you to choose which parent/guardian pays or claims a rebate.