Grow your practice with Halaxy: Rebates and Payments processing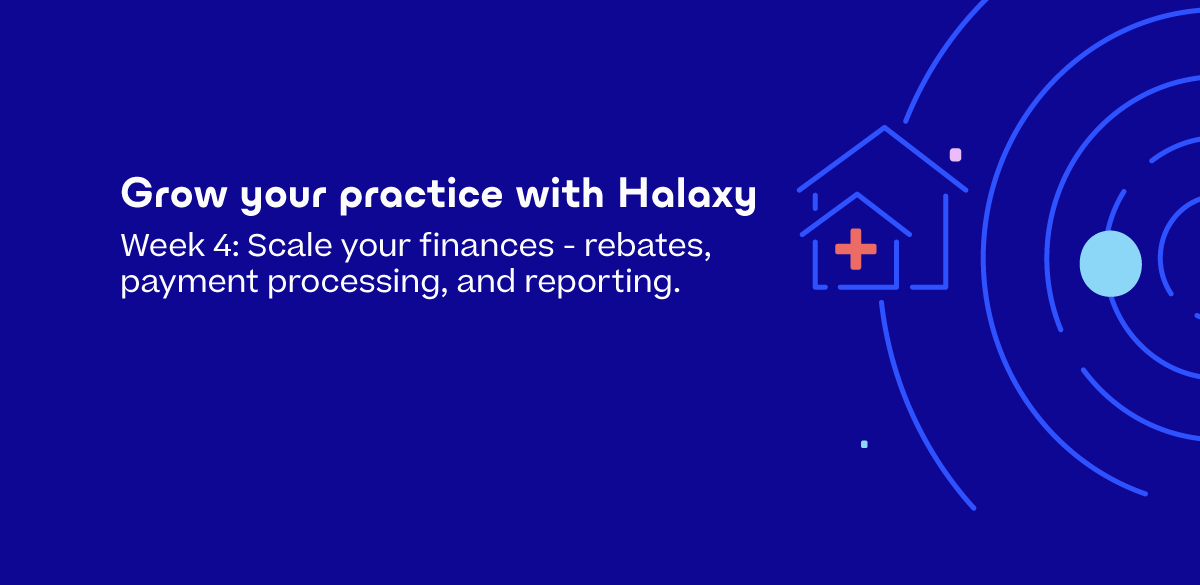 To help you make the most of your Halaxy account and use it to grow your practice during these challenging times, we've prepared a series of blog articles called: Grow your practice with Halaxy.

This is the last email of our series in which we provide our tips on Halaxy's features to help you grow your practice without extra admin work and without increasing your operational costs.

Today, we're showing how you can scale your finances and have more time to grow your practice with automated claim and payment processing, and efficient finance reporting.

Here's what we've been covering each week:
✅ Week 1: Directory and Online Bookings
✅ Week 2: Smart Calendar, Waiting List, and Tasks Management
✅ Week 3: Smart Campaigns, Recalls, and Mailchimp Integration
✅  Week 4: Scale your finances - rebates, payments processing, and reporting

See all previous blog articles from the Grow your practice with Halaxy series here.

Upcoming Webinar | Wednesday 12th August at 5pm AEST
We'll be running a live webinar next week on how to process payments online via Halaxy - Register to attend here

Keep reading to learn how you can use Halaxy's rebate and payment processing features to grow your practice in 2020.
---
Grow with Halaxy's rebate and payment processing features
Halaxy's automated rebate and payment processing features are key to freeing practitioners from administration, saving you a lot of time and resources that you can use to grow your practice, treat more patients, and boost your practice's revenue.

Many practitioners are now operating multi-mode practices with a mix of face-to-face, phone and telehealth appointments and have completely shifted to online rebate and payment processing to streamline their billing, improve cash flow and keep social distancing measures in place.

These features and are part of our list of add-on features to turbocharge your practice - but there's no need to worry, you only pay for what you process and there are no subscription fees.

So you can try these features, experience the time-saving and social-distancing benefits, and keep using them for as long as you need!
1. One-click rebate processing
You can process and accept rebates directly within Halaxy, manually or automatically, without the need for an external payment terminal or a separate application.
Process rebates in one-click across: Medicare, WorkCover, DVA, TAC, and LaternPay

Process rebates automatically
In addition to processing bulk bill, Medicare and DVA rebates individually or through batch processing, you can completely automate your rebate and bulk bill processing so that it occurs at a specific time into each appointment or at a specific time each day.

Learn how to automate your rebate processing
2. No need to handle cash or eftpos again
You can process credit cards and accept payment from funding bodies directly within Halaxy, without you needing to handle cash or manage an eftpos facility.

Processing payments via Halaxy helps you save time and it means patients can get on with their day straight after consultations, streamlining your practice's billing now and all year round.
You can accept full or partial payments for online bookings. Processing payments remotely is also great for telehealth appointments.
Learn more about Auto Payments
3. Payment link and BPAY
Add a Payment Link to invoices and get paid faster
You can add a Payment Link to your invoice emails, so patients can click on the link and securely pay the invoice online straight away.
After the invoice email is sent, everything is done for you. This is also a great way to get paid remotely without handling card details over the phone, for example.

Learn how to add the Payment Link

BPAY
Halaxy also allows you to accept payments via BPAY without any set up on your part, simplifying the payments process for you. BPAY payments are processed through Halaxy's payments gateway, with your BPAY information automatically appended onto your invoices without you needing to do anything.

Learn how to enable BPAY
4. Save 4 minutes and boost your practice's revenue
Saving 4 minutes per appointment adds up. You can save an hour a day and see more patients and increase your practice's revenue considerably.

Our case study has shown that a practice that processes on average 104 invoices per month with an average fee of $160.40 per appointment, could generate an extra $1097 in revenue per month!
5. Separate the financial and clinical relationship with patients
Processing payments via Halaxy not only save you time but also helps you to separate the financial and clinical relationship with patients.

Patients can get on with their day straight after face-to-face, phone, and online consultations. And reception staff can focus on creating a better experience in the waiting rooms.
6. Patients can manage their payment details
Your patients can add and maintain their own payment details via Halaxy's patient portal - similar to how they pay for utilities, transport (e.g. through Uber) and other services.
With payments handled through Halaxy securely, patients can get on with their day straight after their treatment, and many report that they perceive the practice to be calmer and more focused on caring.

Learn more about the Patient Portal
7. Payment processing fees can be assigned to patients
Halaxy gives you the flexibility to assign payment processing fees to patients, clients or organisations - and you can choose if, when and to whom you'd like to pass on the costs.

You can also charge for no-shows and late cancellations fees.

Learn how to allocate the fees to patients
8. Consistent and competitive rates
Unlike traditional physical and online terminals that can charge different rates depending on the card type (i.e. AMEX, Mastercard, Visa), Halaxy has consistent rates according to your payment rate, and no nasty surprises with inconsistent merchant fees.
Halaxy is the cheapest online payment option in Australia for practitioners, and the more you process payments via Halaxy, the more you save.

Check the processing rates here
9. Track your payments
Halaxy's extensive in-built financial reporting tools and accounting software integrations make it simple to track all your payments for free.

Check all the finance reports you can run in Halaxy