We have big news - HealthKit is rebranding to Halaxy
Halaxy means Health Galaxy and reflects what HealthKit has become and what we aim to continue to do - help you better navigate the health system and make healthcare better for everyone, everywhere.
What does this mean for me?
From today, you can log in to Halaxy.com with the same details you use to log in to HealthKit. You will find that the design is more modern, but everything that you love about HealthKit remains the same; same workflow, service, price, and people behind it: our teams in Melbourne, Australia and Cork, Ireland and soon in other locations.
Welcome to the galaxy of health
We will be introducing exciting updates that help you run a better practice on the Halaxy platform and phasing out access to HealthKit in November 2019, so you can move across to Halaxy in your own time. Don't worry - you will have access to your entire HealthKit information by logging into www.halaxy.com with your HealthKit details at any time.
Here are the key things you need to know
about moving from HealthKit to Halaxy: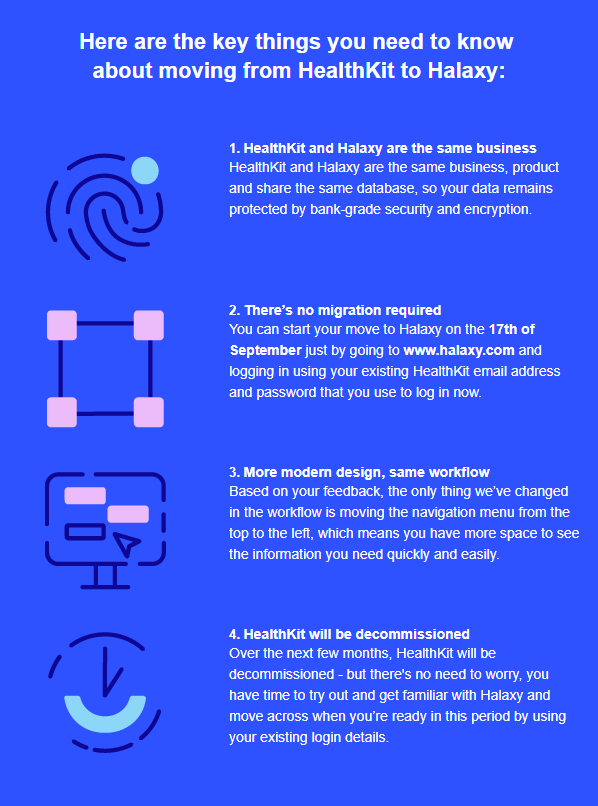 FAQs: From HealthKit to Halaxy
Everything we do and every decision we make is so we can offer you the absolute best health platform to manage your practice and make health better for everyone everywhere.

So we've been working hard to make sure your move to Halaxy is smooth and seamless.

We're here to help and have prepared FAQs specifically to address any queries you might have about HealthKit becoming Halaxy. See the FAQs here.